Best Medical Colleges in India
September 2023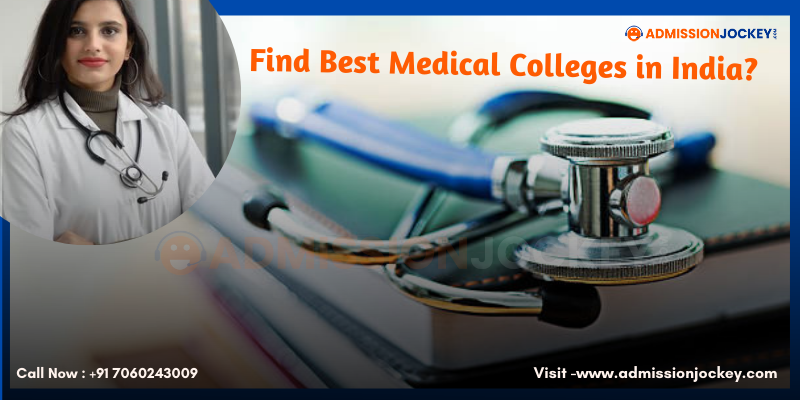 Top Medical Colleges in India
In a country as big and diversified as India, success in the medical field mostly depends upon the institution from where students pursue their medical courses. Students who are pursuing their 12th examination this year will be eligible to appear in the entrance exams of the best medical colleges in India. There are so many states and so many medical colleges and most of them are pretty good so students start researching and identifying the best picks for them because it will shape their future in the right way. Government and Private medical colleges grant admission in the MBBS discipline according to score in NEET UG Examination. In this article, we are going to take a look at the best medical colleges in India.
AIIMS Delhi – All India Institute of Medical Sciences New
AIIMS New Delhi is the biggest medical institution in the country as is of national importance. It was established in 1956. They provide numerous undergraduate and postgraduate courses in medical science and paramedics in all of its branches keeping the level up for medical education in India. They provide admission to various courses through an entrance exam which they conduct themselves. They run with an aim to create healthcare professionals in the field of medicine to be the frontrunners in the healthcare field in the future. They provide all the facilities necessary to hone and enhance the skills of students. In-campus hostel, hi-tech labs, modern computer center, well-equipped library, medical support, best infrastructure, cafeterias, and many more. Around 40-50% of graduates are placed in their own hospitals and the remaining are placed in the most reputed hospitals around the country. AIIMS is one of the most preferred medical institutes in India.
Read More Best Paramedical Colleges in Dehradun
Post Graduate Institute of Medical Education and Research
PGIMER was established in the year 1962 and since then is one of the top medical institutes in India. This institute functions under the Ministry of Health and Family Welfare, the Indian Nursing Council, and the Government of India. They offer more than 50 courses in various medical and paramedical streams, nursing, and other medical-related streams. This institution was started to offer students the highest quality education in medical science so that they become highly qualified medical professionals. Their world-class institute has an awesome infrastructure and provides all the facilities within campus only. They offer admission on the basis of INI CET (Institute of national importance combined entrance test) which is an entrance examination. After graduating, students get jobs in the top facilities and hospitals in the country.
Christian Medical College, Vellore
CMC was established in the year 1918. It started as a Christian education institution but soon became one of the top medical colleges in India. They offer many courses in medical, paramedical, and nursing streams. They have an astounding campus of 200 acres and a faculty of a total of 825 members helping students turn into skillful medical professionals. They have their own hospital and provides all the facilities and accommodations to the students for their comfortable stay including a hostel, a fully-stacked library, well-equipped laboratories, etc. They take students on the basis of NEET score and their last merit according to the discipline. Students who graduated from here are paid very handsomely and get placed in the topmost hospitals and institutions in the country. Safe to say, CMC is one of the best medical colleges in the country.
Sanjay Gandhi Postgraduate Institute of Medical Sciences
SPIMS is a medical institute that was established in the year 1983 in Uttar Pradesh. The institute is spread over an area of sprawling 550 acres and is one of the top-notch colleges in India. They offer various facilities within campus like a hostel, library, computer facilities, auditorium, seminar rooms, and their own hospital. Their infrastructure is world-class and it attracts students to pursue their courses here. It is recognized by the Medical Council of India. This institution has a reputation for creating world-class health professionals. The team of 170 highly educated faculty members is experts in working on the strengths and weaknesses of students turning them into skilled medical professionals. The admissions are done by conducting various entrance tests including NEET PG and NEET SS. The students get placed in the best hospitals and medical facilities in the country.
Banaras Hindu University
This is one of the most prestigious universities in India. It was founded in the year 1916. It has one of the biggest and most luxurious campuses in India spreading across 1300 acres of land. It has been acknowledged by many councils and authorities in India and offers some of the best courses in the medical stream. They have a world-class infrastructure which captivates students and provides all the facilities within campus including well-furnished hostels, hi-tech computer labs, a world-class library, sports center, Bank and post office, swimming pool, ATM, and much more. They have highly educated world-class faculty who are talented enough to mold any student into highly efficient medical experts. Students are enrolled through various entrance exams and the last qualification merit of the students. This university sees some of the top recruiters in the world like Genpact, Infosys, and many other companies. They also have many scholarship programs for students. BHU is undoubtedly one of the best medical colleges in India.
Leave a Comment